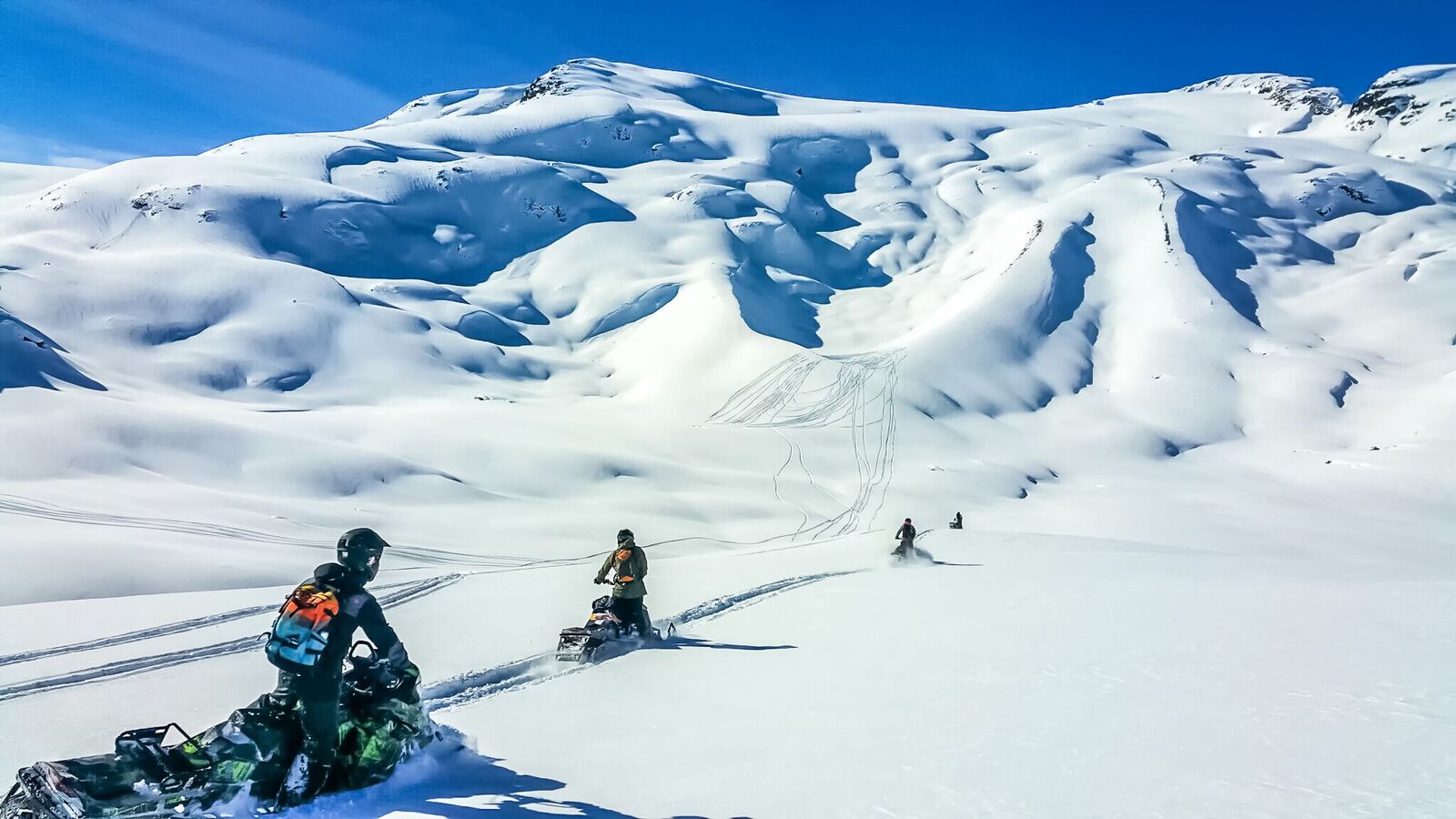 Guided Adventures
Escape the crowds with our exclusive full day guided snowmobile tours.
Guided Adventures
With over 50,000 acres to choose from, experience the Whistler and Pemberton Backcountry like few have done before with over 50,000 acres to choose from!
We own the largest snowmobile tenure north of Whistler (nearly 50,000 acres!) and offer exclusive guided snowmobile adventures on the latest Ski-Doo mountain snowmobiles. Our highly experienced and personable guides will take you to areas of the beautiful British Columbia backcountry that you would not even know existed. Stunning mountain ranges, frozen rivers, ice caves, expansive glaciers, forested valleys and alpine meadows. Our tours are varied based on the weather but will either take you to the Rutherford onto the Pemberton Ice Cap or we will explore the valleys off the famous Hurley River in Pemberton.
Available Tours:
Click on your preferred dates below to display available tours
Searching Availability...
Snowmobile Rental and Snowmobile Tour and Cancellation Policy:
As the renter you are responsible for any damage to the snowmobile and or any equipment rented from Broken Boundary.

All fees are Non Refundable. Dates can be rescheduled with 14 days notice, subject to availability and within the operating season. In the case of extenuating circumstances, we will evaluate credits or refunds on a case by case basis.

For any questions or concerns please contact us at Info@brokenboundary.com.

We will confirm your booking details 48 hours prior to the date you have booked.
Snowmobiling Ability Chart
Beginner
Has never ridden a snowmobile

Has little to no experience in the backcountry during the winter

Likely has no other power sports experience.

Not a problem we will teach you from the basics!
Novice
Has some experience riding a snowmobile on a groomed trail

Has limited experience in changing snow conditions

Has spent some time on a backcountry snowmobile

Has limited experience in the backcountry during the winter and assessing avalanche terrain

Could have other power sports experience such as a quad or dirt bike (this is very helpful)
Intermediate
Has driven a snowmobile more than a few times

Can drive down a trail at a good pace while feeling comfortable

Starting to understand the basics of off trail riding in soft snow.

Understands about counter steering to turn the sled in powder

Can get self unstuck without too much trouble

Has some understanding of assessing hazards and avalanche terrain but could use some coaching

Has extensive power sports experience (outside of snowmobiles)
Advanced
Has significant experience riding snowmobiles

Can carve and control the snowmobile in deep snow without issue.

Can break trail and has some experience route finding

Capable of riding more technical terrain, climb and descend open hills with no problem

Capable of putting the sled on edge

Counter steering is natural, strong throttle and brake control skills

Has the ability to self-extract if stuck in deep powder

Comfortable assessing hazards and avalanche terrain
Expert
Ride sleds for 15+ days per year and typically own their own snowmobile

Can ride all day in steep, technical and treed terrain in all conditions

Able to hold a side hill indefinitely even when the terrain or snow conditions get more challenging

Has complete control over the snowmobile.

Can self-extract their sled if they are stuck

Strong ability to understand and assess terrain and avalanche hazards
CALL OR EMAIL TODAY TO LEARN MORE & BOOK